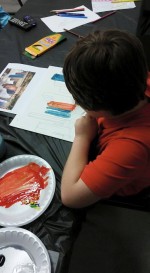 Business Genre
Short Business Description
Rachel Cox is an experienced instructor and great artist with a calm and nurturing personality. She has a way of stepping in and assisting / prompting without being overbearing or letting your autistic child "go passive." She is really excellent. If you are looking to see if you can bring out artistic abilities in your child, this is a fantastic resource. Nice gallery too.
Long Business Description
Does your child like to draw or paint?
Art lessons taught by artist Rachel Cox at The Urban Easel will appeal to ages 8-14 across all cognitive levels and abilities.
In these specialized classes, emphasis will be placed on helping your child find a way to express his thoughts and feelings through art in a manner most suited to him. Participants can benefit from texture painting and mixed media, sponges and other tactile objects, and from the use of paintbrushes. Before your child's first lesson, you will be asked to fill out a short questionnaire in order to help us get to know your child better.
There are many benefits of art lessons for those with autism. Art lessons increase opportunities for self-expression and develop a sense of pride and accomplishment. Some with autism have developed a life-long interest and talent for art after having art lessons.
Siblings without autism are also welcome to participate and advance their skills and knowledge in art.
Students are also welcome to show up for a single session to give it a try to see if they might benefit. For more information, contact: [email protected]