"The Slide" at the Seabrook Municipal Swimming Pool
in Miramar Park, Seabrook
If Schlitterbahn is not in your budget, or you just want something more low key, this is a public swimming pool featuring a wonderful 30-foot winding water slide, a regular pool with a large shallow area, a lap pool, kiddie pool and concession stand.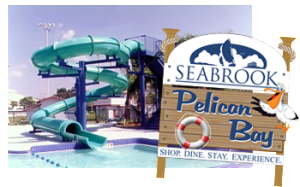 This slide is really neat. And big, for a pool slide. Just want to note that the slide plunges kids off into VERY DEEP water. Under the old pool rules, my au son, who doesn't swim and was then about 65lbs, was not allowed to go down with a life vest on . . . they said it would "scratch their slide" (give me a break!) . . . . and I had to tread water at the bottom (too deep to stand) to try to catch him each time he came down–and there was no way of knowing exactly when that might be. The third time down he flew through my tired arms and his head went underwater, sinking like a rock, mouth wide open from laughter. Thankfully, the pool is now under new management and last time I went they will let kids come down with life vests on and, if needed, their lifeguards will do the catching.
This is one of the best swimming pools for kids in the area. Many families who used to live in Seabrook but moved out due to Hurricane Ike still come back to let their kids swim and play. The cost for nonresidents is $6 for children and $8 for adults, but for residents of Seabrook it is $2 and $4. Because moms don't make the rules, the pool is closed on Sundays.