Business Name
Business Genre
Long Business Description
My children attended this KinderCare for a few years and it was very good for us for a while. Susie is a good Director who does her best to try to accommodate kids with special needs. My son with autism was age 7 or 8 before he was toilet trained and they agreed to take him when other daycares (including Kids R Kids) refused, saying that they didn't have the staff for his level of care. Christopher attended preschool and after school care there. One staff member was able to give him a lot of 1:1 attention and my son made progress reading and writing (I had to pay extra for their Phonics class). Once she left, however, my son languished, lying on the floor staring at the ceiling, or else climbing on tables and chairs out of boredom because he couldn't do what other kids his age could do for play; and although he could make his basic wants known to adults, he couldn't talk to other kids. When we came to pick him up he would bolt out the door. There were too many big kids crowded into a small space and it was too noisy, but I felt I didn't have options because I didn't think anyone else would take Christopher. KinderCare was good for us for a while, but as he got older he needed more stimulation than what a large daycare could provide. ELEMENTARY SCHOOLS BUSED TO: Ward Elementary, Brookwood Elementary, Clare Lake Elementary, North Pointe Elementary, Armand Bayou Elementary, Witcomb, Falcon Pass.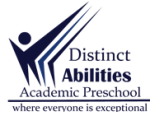 Business Name
Business Genre
Long Business Description
Distinct Abilities is an academic preschool in Houston that caters to both non special needs and special needs children and is inspired by the Montessori philosophy. It is also a daycare provider for school-aged children. They also have an inclusive summer day camp with field trips to area attractions.
I personally love Distinct Abilities. They took my autistic son into their after school program when he had aged out of all other child care centers but was not able to be safely home alone, which is when I discovered them. CCISD was able to transport special needs kids there so it solved a real need for working families of special needs kids in the district who have no other options than to hire someone to watch their child after school and over the summer. They have the experience and the facility to provide a structured, stimulating, nurturing environment for all kids.
Since moving into their new location, Distinct Abilities has expanded to add child therapy and sensory rooms. They are a fantastic asset to the Clear Lake area! 
Business Name
Business Genre
Long Business Description
We strive to provide a nurturing and stimulating environment designed to guide children to discover new information, skills and concepts. Our child development curriculum offers the best social, emotional, physical, academic and cognitive experiences for children. We provide a variety of early childhood educational experiences that encourage a positive self-image and a joy in the learning process. We respect each child as an individual who possesses a unique personality, intelligence and creativity. Our enthusiastic and dedicated teachers establish childcare environments that are clean, fun, creative and child-centered and provide children with purposeful direction, positive reinforcement and guidance as they work towards becoming more independent. Learning through play is critical for this stage of learning.
Additionally, we have diligently created an "active" program that encourages an active, healthy and happy lifestyle at a young age which is a gift that lasts a lifetime. Children are introduced to a variety of age appropriate activities and sports with the goal that they learn new skills and gain confidence that will carry over into future endeavors. They will run, jump, tumble, climb, leap and dance in our 28,000 sq. ft. state-of-the-art facilities. Good physical health is a critical component of brain development as well. The daily schedule provides a consistent structure to the day; allowing for routines and rituals. However, it permits the flexibility and openness to follow children's interests and address their needs. Our curriculum encourages and supports a balance of free choice and teacher guided activities and allows time for small and large group activities. Math, technology, science, and art components are strongly emphasized and are incorporated throughout the entire day though play based learning activities.
Business Name
Business Genre
Long Business Description
I don't live in Pasadena, but the Verne Cox Multipurpose Recreation Center makes me wish I did.
This is a recreational center with pool, gym and classrooms which offers programming for people with disabilities, including adaptive aquatics, outings, cooking and art classes, sports and after school programs for kids with special needs. Right now, its afterschool program is for kids up to the age of 15, but the Director says they may even increase this age limit if there is sufficient demand.  Rumor has it that Pasadena ISD and Friendswood ISD provide transportation to Verne Cox after school to their special ed kids can use it, but when I called to enquire, CCISD said "no." The rec center also offers a summer program and dances.