Why a "fun guide" for families with kids with autism? Finding fun, affordable activities for the whole family to enjoy is a challenge for any parent, but throw autism into the mix and it can be even more daunting. Your child's dislike for loud noises, including crowd cheers and applause, or insistence on certain familiar food items, coupled with your desire to avoid melt downs, can sometimes restrict your family's recreational options even more. Sometimes you wish you'd had a heads up about things other parents might not care about–for instance, the fact that they serve soft drinks without straws and lids; the train whistle is really loud; they won't permit autistic kids to ride on a horse, get on the trampoline or do the zip line; they do not permit people with life vests to go down the slide, etc. And we sometimes just need to know what to expect just so we can explain it to our child before hand.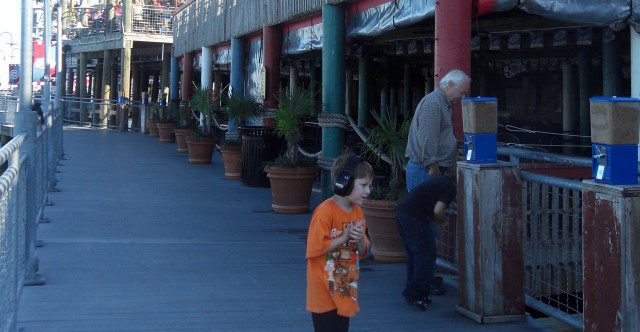 It is all worth it, though. Doing things together on the weekends, and especially seeing your child enjoying riding carnival rides or playing in rivers or feeding the ducks or just doing what other children do, has been great "therapy" for our family. We have found that day tripping or vacationing — a complete change of routine–has opened doors for our child, who is always more willing to try new things when he has no expectation of a routine or sameness.
We also discovered ways to make our son more comfortable going new places. If sound-sensitivity or ear covering is holding your child back from birthday parties, bouncy-houses, circuses, fireworks and rodeos, motor boats, or even public bathrooms, try sound-blocking "isolation" headphones, shown below. Our child only rarely needs to use them now, but they give him a sense of comfort and security when going to new places up until age 8 or 9. Besides, Dr. Dre has made wearing big headphones cool, and these don't cost $200.
Criteria for Inclusion. There's an abundance of your typical kid and teen attractions in the Clear Lake area: Chuck E. Cheese's, MacDonald's with indoor play spaces, Build-a-Bear Workshop, Lego Store, Toys R Us, It'z Pizza, Main Event, bowling alleys, roller rink, ice skating rink, indoor and outdoor go-karting, gyms for aspiring gymnasts and cheer leaders, golf courses, Main Event Family Fun Center, Guitar Center, School of Rock, Texas Art Supply, bouncy houses, several movie theaters (and a dollar cinema), teacher supply stores, several GameStops, a Half Priced Books, good branch library, YMCA and community recreational centers.
This guide, however, is intended to showcase some of our area's more unique venues, or else a parent's perspective on the non-so-unique ones. Such as the most popular party place for 6-9 year-olds, Putt Putt Fun House, which my children loved when they were younger: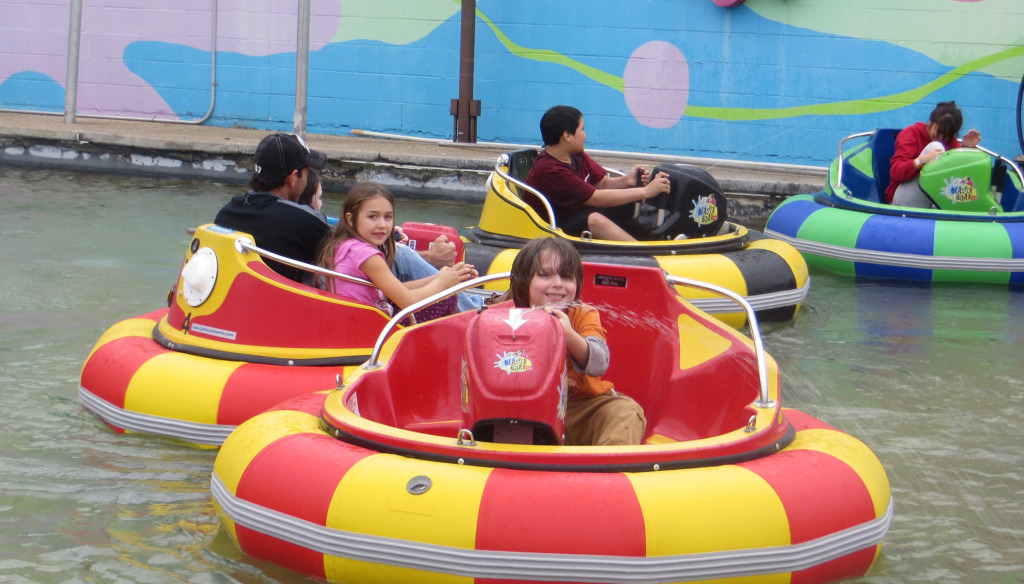 And it's not so much a guide TO Clear Lake, but FOR Clear Lake–places you might want to go for family fun if you live in the general area. That means we get to include the Texas Hill Country in our guide, and just about every town and city within driving distance.
Rides, rodeos, rivers and waterslides are probably our family's favorite things to do this year. Next year, it might be launching rockets at NASA with the NASA Rocket Club or kayaking in Armand Bayou.
We encourage you to add your family's favorite resources and activities to the guide. You can be anonymous or not, up to you. We welcome your photos.
Table of Contents
Within 25 miles
Kemah Boardwalk: the Aquarium Restaurant & Stingray Reef
Space Center Houston: Rocket Park
El Jardin Del Mar Community Beach, Pasadena
The Waterslide at the Seabrook Municipal Swimming Pool, Miramar Park, Seabrook
Maas Nursery: "If you can't find it here, it probably doesn't exist!"
Clear Lake Park, Seabrook
Putt-Putt Fun House Café
Outdoor World, Pearland
Bay Area Park & Armand Bayou Nature Center
Star Cinema Grill, Webster
Hibachi show: Samurai Japanese Steak & Sushi, Webster
Pirate's Bay, Baytown
Aquarium in Downtown Houston
Bayou Wildlife Zoo, Alvin
Within 50 miles
Galveston Beaches (32.3 mi)
Houston Zoo (27.6 mi)
Schlitterbahn Galveston Island Waterpark, Galveston (33.8 mi)
Moody Gardens, Galveston (30.8 mi)
Sea Wolf Park, Galveston (33.9 mi)
Rainforest Cafe & The Jungle River Ride, Galveston (30.3 mi)
Go Fishing: Williams Party Boats & The Captain John, Galveston (29.8 mi)
Galveston-Port Bolivar Ferry (37 mi)
Trader's Village, Cypress (45.3 mi)

Within 100 miles of Clear Lake
Dewberry Farm, Katy (66.7 mi)
Moorhead's Blueberry Farm (end of June & July only), Conroe (61.1 mi)
Sam Houston State Park, Huntsville (96.3 miles)
Splashway Waterpark, Sheridan (104 mi)
Rodeos and County Fairs
Texas Hill Country

Texas Hill Country
– Bandera, Cowboy Capital of the World
– Boerne (Kendall County Fair and Rodeo)
– Guadalupe River State Park, San Antonio area
– Kerrville – Ingram – Hunt
– [email protected]
– New Braunfels: Tubing the Comal
Dallas-Ft.Worth