Galveston is commuting distance from Clear Lake, though for us it seems like a day trip because it involves bringing a change of clothes, a fairly boring drive, and repeated trips through drive-thus–Popeye's anyone?–before we leave Clear Lake and get back home. To keep things in perspective, I ponder that many residents in Clear Lake drive to Galveston for work at UTMB.
For safety purposes, if I am taking the kids by myself to the beach, I stick with Stewart Beach, a public beach with facilities, grill, shop, and life guards (parking is $8), while if my husband is coming we usually opt for more secluded spots on West Beach where parking is free but there are no amenities.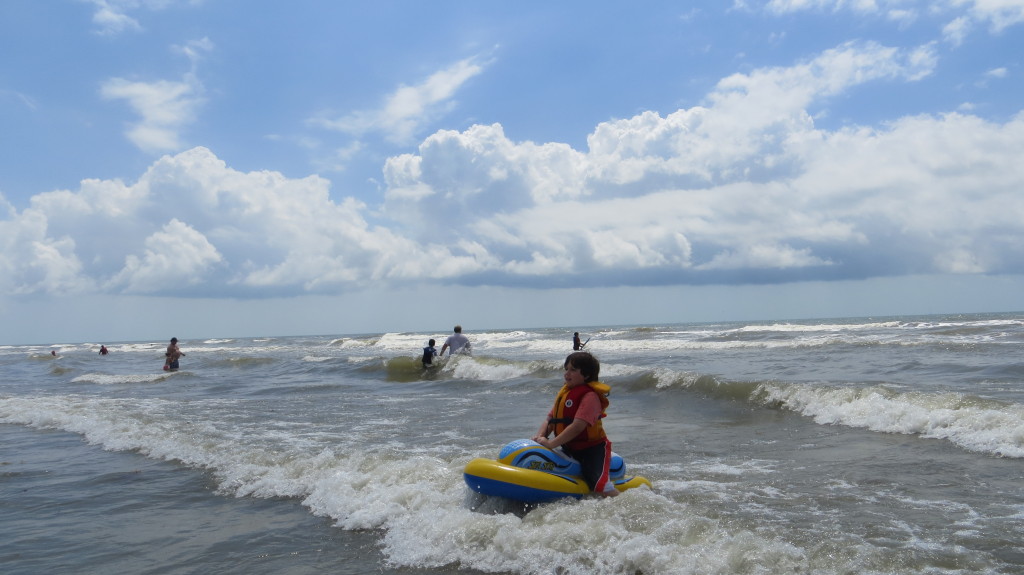 My au and nt child both like good wave action, especially for riding on inflatable floats, boats and body boards, so if both kids and husband are coming we check the Galveston Swell Report to make sure the waves will be at least 3 feet high and winds from the SE (I learned that the water can be choppy but your child won't be propelled forward towards shore unless the wind is right). We never leave our children unattended in the water at the beach, and especially in choppy water (in the picture above the waves are only 1-2 ft.).
At Stewart Beach they rent umbrellas and chairs, and you are not allowed to set up an umbrella or cabana of your own. Go to West Beach for that.
For this mom, there's no relaxing under an umbrella and letting the kids play in the waves anyway, as I stay with my kids. Aside from the potential threat of undertows and rip currents, jellyfish and sand sharks, stomach cramps or seizures, I have to stay tethered to my au child because he is inclined to walk out into the water and keep going, going, going, without fear of anything happening to him. Luckily, my au son also really enjoys the sensation of the water rolling over him and his fingers in the sand so he's OK with hanging out on the shore.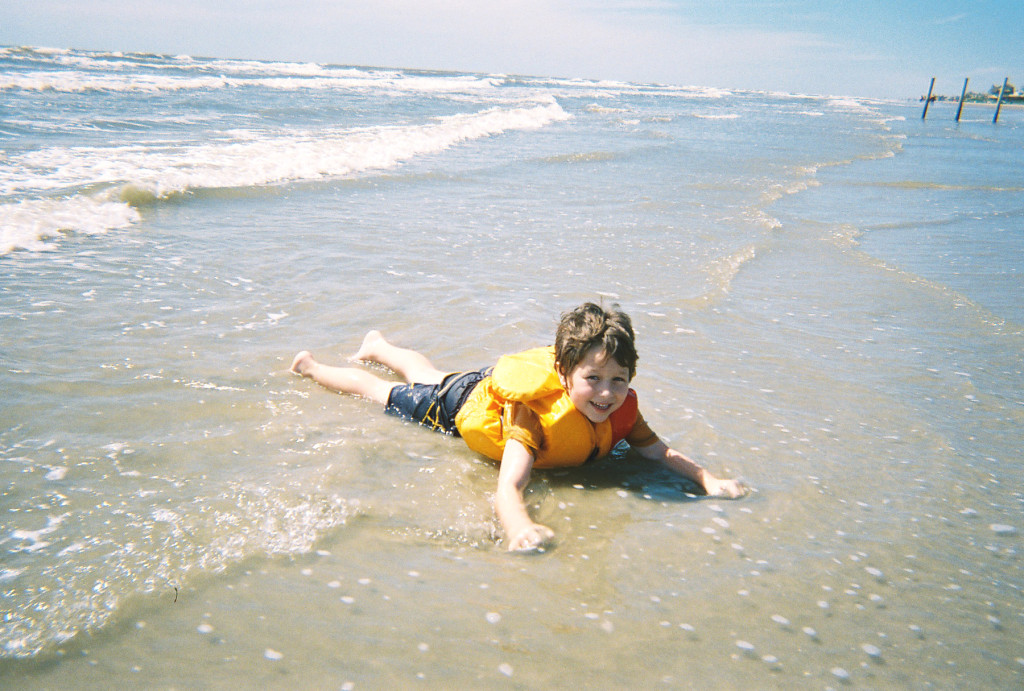 My very favorite time to go to Galveston is before sunset. It's cooler, the waves and wind pick up, fish start jumping, and best of all the brown pelicans come close to shore, theatrically plopping themselves down into the water to feed (it's a brown pelican thing), then splashing and bobbing on the waves like balloons.
We saw many brown pelicans feeding near the shore at Surf Side, a beach whose name is unfortunately much nicer than its reality. When we went, there were several washed up worn leather shoes and shoe insoles mixed up with seaweed, making me wonder what happened to the people, and why they would be wearing dress shoes to the beach in the first place–totally creepy!
The pelicans come close to shore to feed, were fun to watch, though. Here's a video clip: SurfSide.
Plus, we also found a neat large "Witch moth," about the size of a hand, well camouflaged on a driftwood log. He was made for that log! Or the log for him. Which ('witch") came first?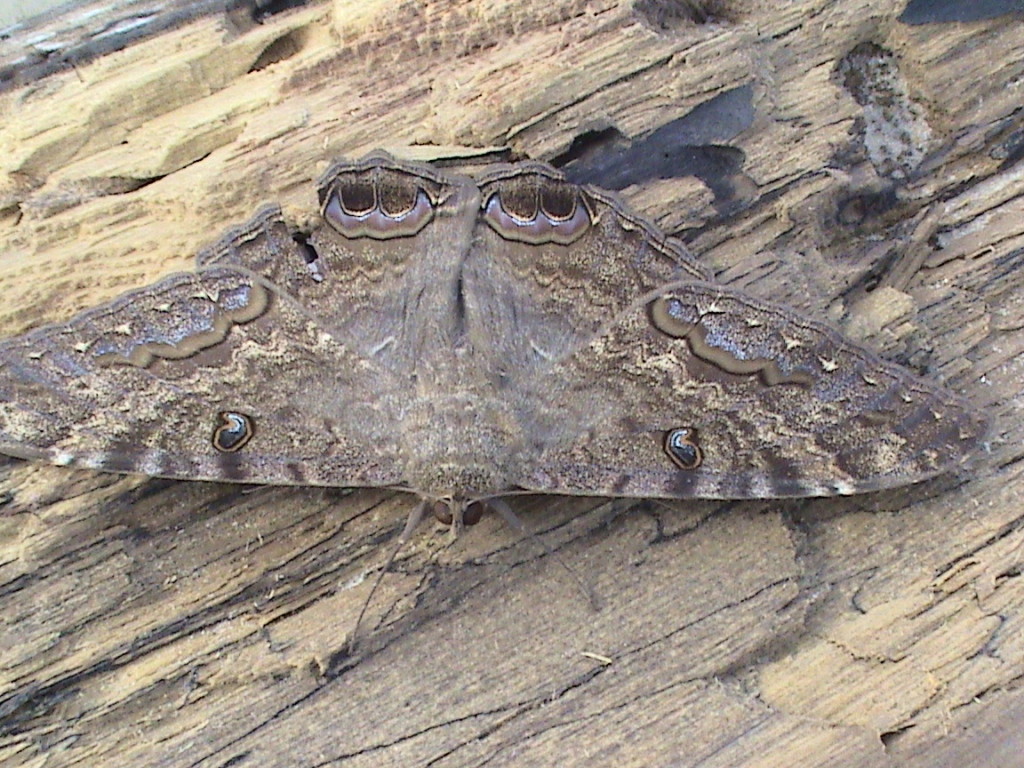 Something we did recently which was enjoyable for everyone was to go on dolphin tour through BayWatch Galveston. You can read more about it here: https://www.tripadvisor.com/Attraction_Review-g55879-d1997214-Reviews-BayWatch_Dolphin_Tours-Galveston_Galveston_Island_Texas.html. If you are already in Galveston for the day, this is an affordable and pet friendly 45 minute excursion where we not only got to ride on a nice boat with a great tour guide who knew where the dolphins were, but was also expert on the odd shaped ships we passed by. We went at 4:15 and got to see one the the Carnival cruise ships leaving the port with the leaving one and the docked one trading horn tones. For our family, 2 adults and 2 kids, it was $32, and ice cold cokes purchased on board were $1. I didn't take pictures on this one but I promise we did see dolphins. (To my slight irritation, my older son was wrapped up in playing Pokemon Go instead of looking for dolphins. What can you do. . . ) Dolphin tours leave every hour and sometimes every half hour depending on demand. They are next to the Elisa at Pier 21, walking distance from the Strand. I will say the only downside of this tour, which is more a problem with Galveston itself, it that the Galveston Bay is extremely industrial and not scenic or beautiful. This is not Monterrey Bay. So you have to set your expectations accordingly. This is very good for Galveston standards.
A favorite restaurant in Galveston for our family is the original Mario's Italian Restaurant on the Seawall. It is family owned and nice, but not so nice you feel like you can't go in after a day at the beach (It's a come as you are type place). They have a full menu but the pizzas are excellent, we usually just do that. They have outdoor seating and a refrigerated dessert case so you can see all the cakes on display.  They even serve Pepsi, which gives them a few extra points in our book.