Schlitterbahn is a huge waterslide park, which can be a veritable paradise or hell, depending on when you go and how much you like waterslides.
When I first discovered it at the end of their Winter season two years ago, it was deserted with no wait to ride the slides, the weather was perfect, the lines were short, the outside area was open, seagulls laughed and great music played, and we had a lot of fun. It was almost surreal, as if the park were there just for our benefit. We stayed from opening until closing. I discovered on that day that my au child really, really enjoyed water slides, and I thought: finally, something both my children can enjoy, together!
Only my nt son decided on that day, after a very scary "pink slide," shown left,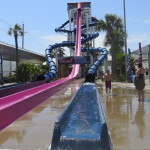 that he really didn't like slides, since he doesn't like being scared (makes perfect sense to me); this created a bit of a problem, since it was just the three of us, and my au son wanted to slide on the slides. The park has slides for all ages and preferences. (Although I like water slides, I am averse to the ones where you drop in total darkness.) Both agreed on the fun of the Torrent /Lazy River, however, especially when the big waves come along (the torrent part).
This is taken from a bridge parents stand on to take pictures of their kids as they float underneath.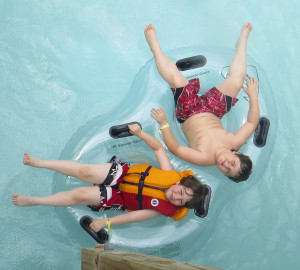 There are many places to eat within the park, from the "hidden grill" in the Wasserfest kids area and other burger stands, to the barbeque and pizza places. Beware of seagulls, proven capable of picking up and flying off with an entire slice of pizza if you turn your back for an instant (my nt son's "favorite part" of the day).
You can secure your purse and belongings in lockers and get wristbands which have value added to them, no need to carry cards or cash around with you. There are double tubes so you can ride down with your child if you must, and the slides are designed to spit you out on top of the water, which is always fairly shallow. Life vests are provided free of charge, and you are welcome to bring your own. The roaming staff at Schitterbahn have walkie talkies and eager to help you locate a lost child.
Have your children and spouse put on brightly colored shirts with distinctive markings because there will likely be a lot of brown eyed, brown haired 10 year-olds in the water.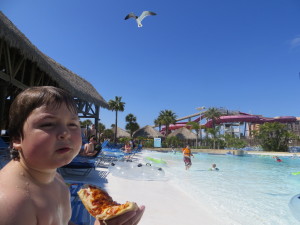 I have been back to Schlitterbahn several times, and believe me, I no longer wonder how the place stays in business. In summers on the weekend, this place can be so crowded as to be yucky. Bathrooms, even the "family" restroom where there is more of an implied code of honor to clean up after yourself and your kids for the sake of other families with kids, is absolutely filthy yucky too. One Saturday I must have gone on ex-con or gang day. There were more inappropriate, repulsive tattoos than I've ever seen in my life or would expect to see at a family theme park. If you go on a Saturday in the summer, you will be bumper to bumper with other floaters, their feet in your face, and if you are lucky to catch a good wave you will likely crash into the back of some idiot who is just standing up in the water ruining the attraction instead of floating (going with the flow) like you're supposed to.
Having said this, nothing but the high price of tickets ($46/per) would keep me from going back with my kids again during a week day, or during winter season. I've lucked out a few times in late April where it has been fairly empty with beautiful weather. When it isn't crowded, this place is awesome! If you have small children or kids on the spectrum, Winter (indoor) season is a fine time to go, especially if it is your first time at a water park. It is cheaper, cleaner, and less crowded, and you have access to most of the slides your younger child would be interested in anyway. The water and air are heated. Why pay for the access to the really terrifying teen/adult slides you're not going to go on?
Put bright shirts on your children and have them wear the shirt in the water (and you do the same) to prevent sunburn and so family members can spot each other from a distance.