Boerne (Kendall County Rodeo & County Fair)
Boerne is a small town with a lot of history 15 minutes outside of San Antonio. We were in Boerne not for Boerne per se, but for the annual Labor Day Kendall County Rodeo and County Fair, a real treat if you like that sort of thing.
We stayed at a very unusual place—a Groupon coupon deal—called "Ye Old Kendall Inn," a historic inn with 36 individually decorated suites next door to several log cabins resembling an early American settlement complete with an American Gothic wedding chapel and schoolhouse (converted into cabins). The inn was once a therapeutic spa for people drawn to the healing powers of the springs (Cibolo Creek) next to it. Robert E. Lee and other famous people have stayed there, and some say the hotel is haunted. It's not all that expensive, and a pretty memorable alternative to bland Comfort and Holiday Inns.
We had hoped for a river to play in, since it looked from Google maps to be situated next to a river; but the springs were almost completely dried up when we were there. We walked along the river bed looking for any artifacts from Boerne's historic past (snuff tins, or metal buttons or bullet casings). We found only frogs and a few stray cats.
We spent one night in the old one room school room-it's too small for a family of four to sleep comfortably (husband's snoring kept me awake, and one son thought the snoring sound was ghosts). We asked to change rooms the next night, as I needed respite from snoring, and we got the Lancaster Cabin which was still small, but had a little extra room with a twin bed.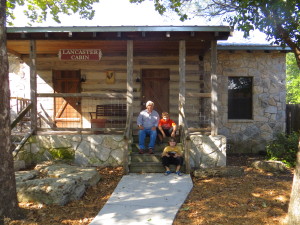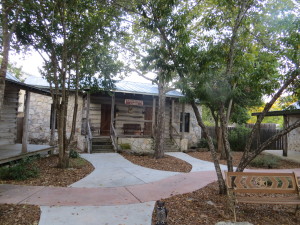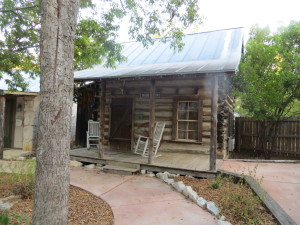 We speculated whether these cabins were "real"–my husband said the construction of the walls looked authentically 19th century–but where was the kitchen? Did they cook only in an outside communal fireplace? At nighttime a fire it lit and guests sit on the patio under white Christmas lights and talk.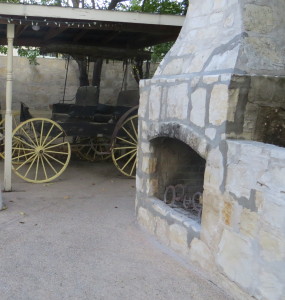 As one might imagine, the historical buildings in Boerne and the antique malls along Main Street were not of interest to the kids—it was 100 degrees out, everyone was sleep deprived, they were expecting Mom to come up with a river; but everywhere in the vicinity river swimming was banned due to low water levels and high bacteria counts. Had I known about it, CascadeCaverns or the Cave without a Name would have been a good option instead of driving up and down Main street. We stopped to check out a beautiful old church (ca. 1913) Sunday afternoon.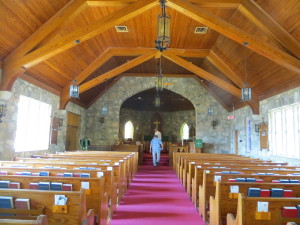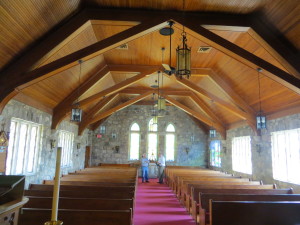 We also went to the studio-home of a man who makes traditional Japanese pottery using an outdoor kiln. He became furious and demanded we leave when I took a picture of him and his kiln (picture not posted). But the County Fair and Rodeo that evening was FANTASTIC and made it all worthwhile.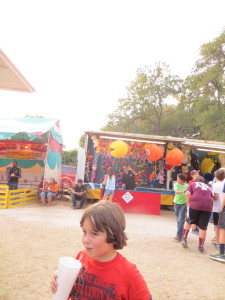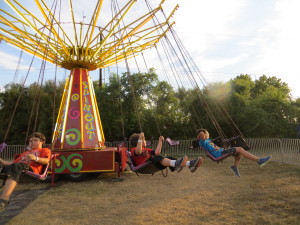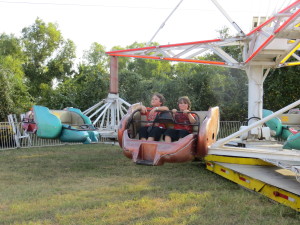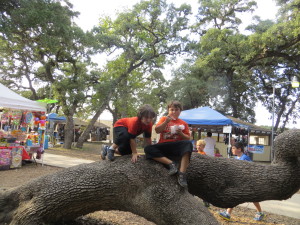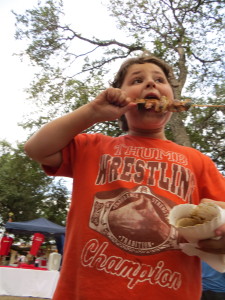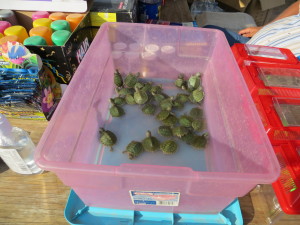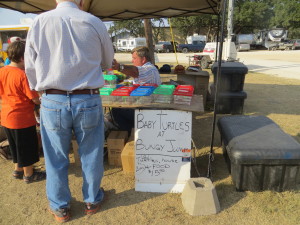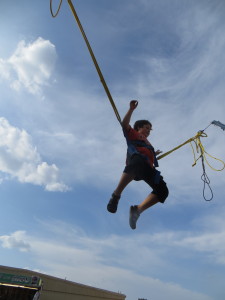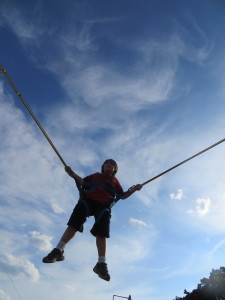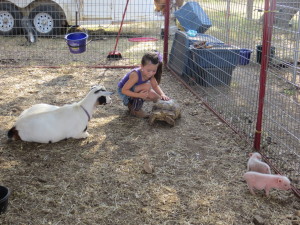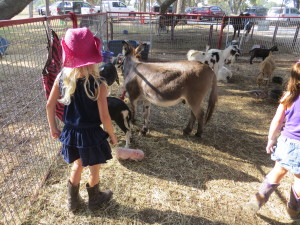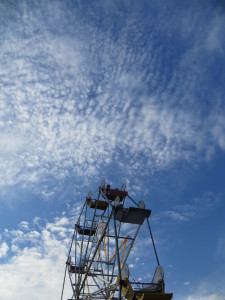 In Boerne, you're close enough to San Antonio to enjoy SA attractions like Natural Bridge Caverns or the Wildlife Park, or to Bandera (Cowboy Capital), or other Hill Country destinations.
In retrospect, I'm not sure why "we" hung around in Boerne all day Sunday complaining about the heat, lack of swimming pool, and no river ("Mom next time make sure the hotel has a pool and normal cable TV."). I ended up hitting the antique malls and boutiques while the men stayed back in the room watching a movie on the tiny TV and playing checkers. But everyone enjoyed themselves at the rodeo and fair that night.