This is not meant to be a review of Space Center Houston, for both times we have been, I've [been] stuck with my kids in the large central Space Center Plaza area, which is where the kid's attractions, food court, theater and gift shops are housed. We apparently missed a lot of NASA by not going on the tram tour, which is included in the price of admission.
For real young children, SCH offers a permanent five story climbing/sliding/ball shooting play structure, recently renamed "Angry Birds Space" from "Kid's Space Place." On weekends (this photo is weekday), this structure is mobbed by moms fearful of losing their children while the men and other family members are off enjoying the attractions. . . sigh.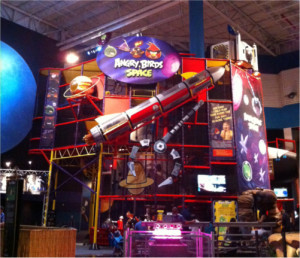 I think kids can exit on the second floor–or maybe that was just my perception. My kids, who are really too old for play structures, but too immature (think Bart Simpson) for most museum "edutainment," somehow escaped it without my noticing, and I found them 30 minutes later lying down inside a space station bubble window, which they thought hilarious. . . we're playing hide and seek from you, Mom!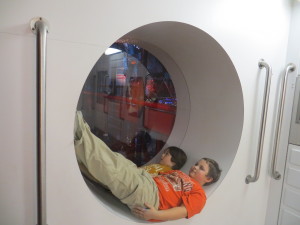 On weekends, this place is super crowded and expensive for a two parent, two child family ($6 parking followed by $22 admission per adult, $12 per child), especially if you are just going to hang out with your kids in the main plaza area as I do. If your children are under 12, they will see SCH as a gigantic play area only the educational aspects of the exhibits may be lost on them. The wait to ride the guided tour tram to see the rest of SCH, including historic Mission Control, can be impossibly long (I think because Mission Control is so small?) for families with younger kids.
Due to the crowds, acoustics, kid screams and theater, there is a continuous boom/echoing in there—if you get separated from your husband he won't be able to hear his cell phone ring, or hear you calling him. . . sorta like being in space . . . or like Fry's on Nasa Road 1. Put brightly colored shirt on your child and husband to make them easier to spot, and bring sound-blocking headphones for your sound-sensitive child. The theater is really loud.
Rocket Park. What many people don't know is that you can see, arguably, the best part of Space Center Houston, Rocket Park, the home of the famed Saturn V and other historic rockets, for free.
I'd definitely recommend Rocket Park if you have younger family members on the spectrum. The enormous Saturn V, a powerful multistage rocket which sent astronauts to the moon and launched skylab into space, is housed inside of a long hanger with its outline painted on the back of it.
Rocket Park is quiet, allowing you to read the plaques in an unhurried fashion, and commune with the gigantic Saturn V and other historic rockets. My au child quite astutely did not want to walk behind the rocket fearing fire would come out the back end.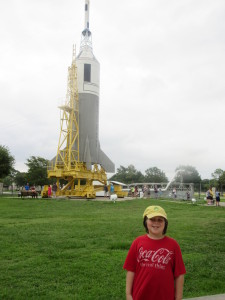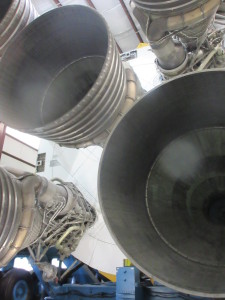 Nearby are herd of Texas longhorns and other cows, a project of Texas A&M, in case you had driven by and wondered what NASA is doing with them.
Rocket Park is a good place to take family from out of town because they get to see our rockets and our longhorns in one convenient stop. If your relatives are from the northeast, round off your tour with a trip to Cavender's Boot City (some of their boots are like works of art!) and Red River Barbeque (League City), where they likely will be thrilled to see some real life mustachioed cowboys eat'n in there.