I have been to Moody Gardens twice and once was after Schlitterbahn (a birthday treat for my autistic son, he got to pick exactly where we went all day: "Wherever you want to go, I'll take you!"). Schlitterbahn is practically across the parking lot from Moody Gardens.
At Moody Gardens, we enjoyed the rain forest especially, where you can see small monkeys, brightly colored birds and butterflies up close. Unfortunately, I don't have any good pictures from this because once inside my son wanted to use my camera to make videos (one long one until the battery died), and I haven't figured out how to edit videos yet. Just want to note that you may go through the rain forest one time and not see much, and on another time see a lot–it's a crap shoot, obviously, as the animals are not chained to the spot. But each time you go through you have to pay a $20 admission fee. In addition to the rain forest, there is a 3D theater, aquarium and waterpark area, and other attractions.
In the Aquarium, we enjoyed especially the penguins, sea turtles and sea lions. This guy was doing back flips while blowing bubbles out his nose.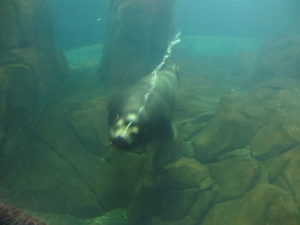 Now, everything you do here will be $20 per person–each attraction lasting for about 30-40 minutes–so you can burn through a lot of money in a short period of time if you are planning to spend the entire day there.
For just my au son and me, it was $40 for the rain forest, another $40 for the aquarium and $20 for the 3D movie (we did only one of the two), followed by $5 for a souvenir photo from the photo booth and $5 for a coke.
Every year Moody Gardens hosts Festival of Lights, where you can walk around and see Christmas lights shaped into butterflies, dolphins, trains, candy canes, etc., and you can ice skate to music in an enclosed rink. I'm too old, my kids are too big, and the rink too crowded for me to try to attempt to teach them to ice skate at Festival of Lights. But we did enjoy very much the ice slide, where kids can tube down an ice covered hill.
Palm Beach at Moody Gardens was also a good venue when the kids were little, though recently the area has been renovated to make way for a waterpark complete with lazy river, wave pool and water slides.
Update: At Moody Gardens the day before Christmas 2014. Here are a few photos of the rain forest and other attractions: