If you live in Clear Lake, you already know about the Kemah Boardwalk and rides, especially "the Bullet"–Texas's largest wooden roller coaster. No one we know has ever ridden the thing, but its wonderful "rickety rickety rickety" and screams of terrified riders add excitement to the atmosphere of the boardwalk at night.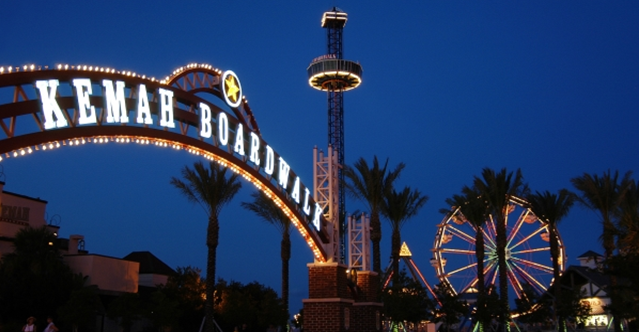 The Kemah Boardwalk, like the Pleasure Pier in Galveston, is a place where adults can dine, drink and socialize in the restaurant-bars along the waterfront, while kids can go off and ride the rides and play in the arcades without parental chaperoning. Accordingly, many of the rides are large and scary, of interest to teens. But there is a beautiful double-decker carousel, kiddie train (autism alert: the whistle is really loud), and balloon ferris wheel which younger kids might enjoy. There are also carnival games easy enough (guaranteed to win if you spend enough) for kids of all ages and abilities: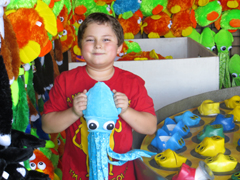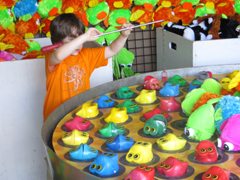 When we go to Kemah, we often go at off peak hours, and enjoy simple pleasures, just walking around and watching the birds and boats go by as we make our way down to the Aquarium Restaurant and Stingray Reef at the far end of the boardwalk. On the way down, for a quarter, you can throw pellets to the throngs of waiting catfish who live under the boardwalk or look across the bay through a telescope.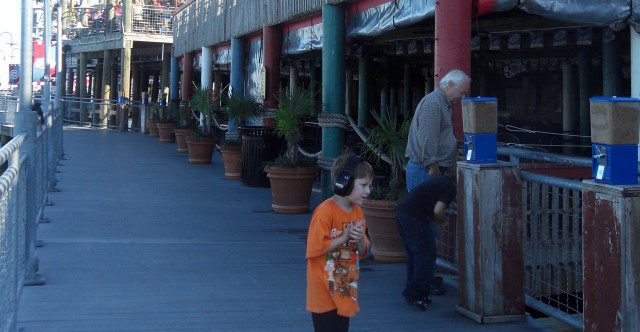 Occasionally, we feed the stingrays at the stingray reef, but it is not inexpensive ($7 per person gets you 4 sardines). If you pay for admission to the reef, you can see other "attractions" as well, like glow in the dark scorpions, an albino alligator and golden glittery piranhas.
As first timers to the reef, we couldn't tell where the stingrays' mouths were and had trouble feeding them. (There is no mouth in the picture below, just folds in their face. Because their mouths are way underneath, they climb the walls to get to your fish. Scary, but fun at the same time.) My au son especially liked watching the stingrays flying by the glass window of the tank.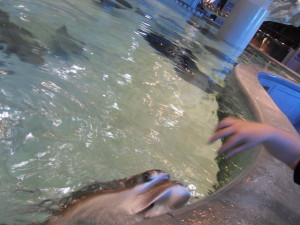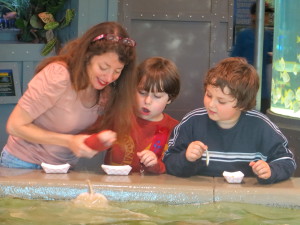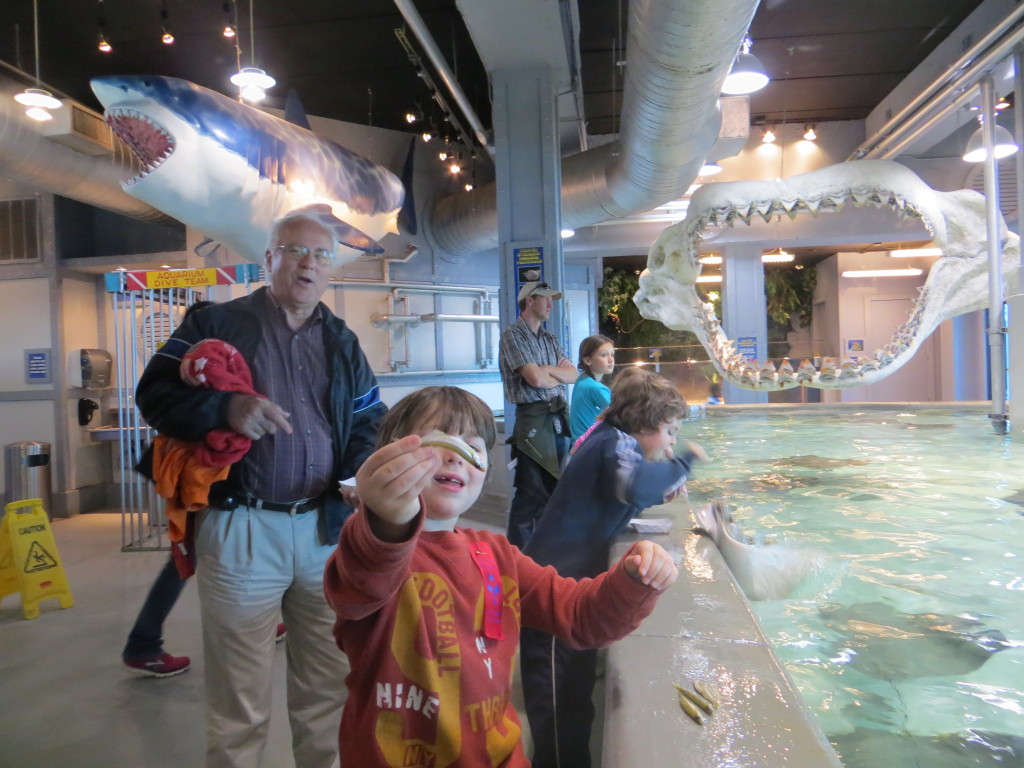 If you still have an appetite left after the stingray experience, go upstairs to the Aquarium Restaurant. Visitors are allowed to view the aquariums for free, but once you've been lured into the middle of a seafood restaurant with bright red snapper and yellow tail tuna on display, you'll probably want to stay for dinner. You aren't obligated to, though, which is why I love this place!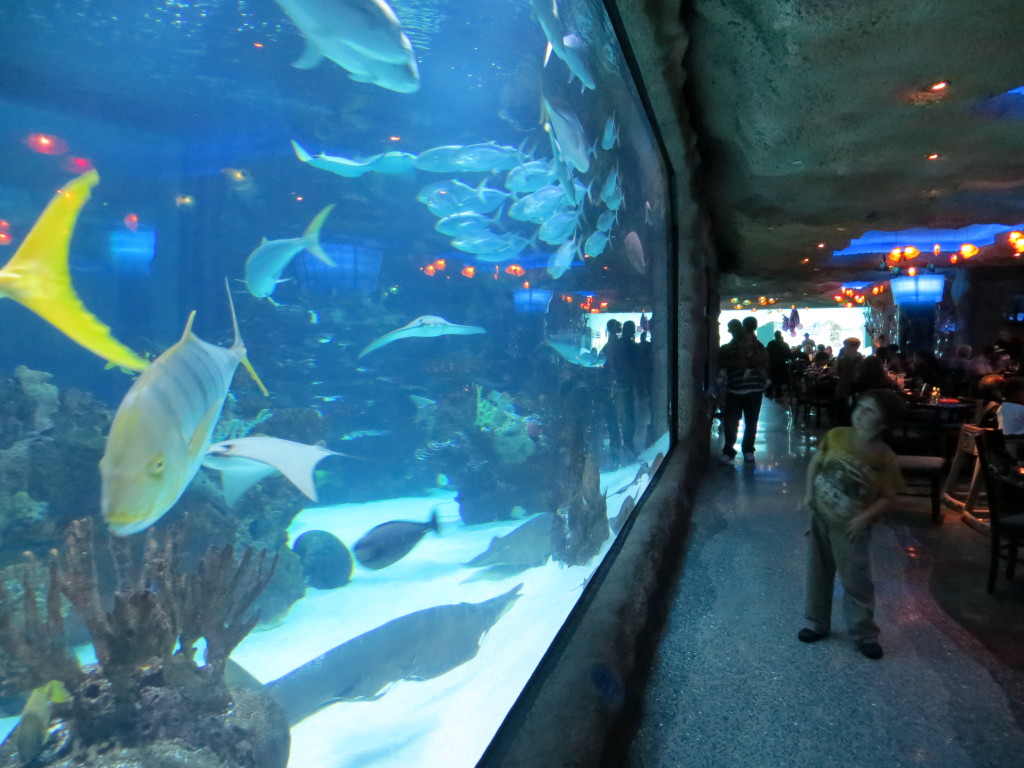 The Aquarium Restaurant has decent food, and, if you choose wisely, it is affordable given the overhead of the tanks. A kid's meal is $6, and you can order a salad or burger for a not unreasonable price of $10, if you don't want to spend $25 on a seafood entree. It is well worth it for the view of the water and floor-to-ceiling tanks of fish. It isn't too noisy for sound sensitive ears.
The Aquarium is also a great spot for watching Kemah's firework shows on weekend nights in the summer, July 4th, and New Years (reservations are a good idea on holidays). If the sound of fireworks bothers your au child, he can watch them through the window, while your other family members can go out on the patio. Here (New Year's Eve) a scuba diver is holding up a sign saying, "Jenna, will you marry me?"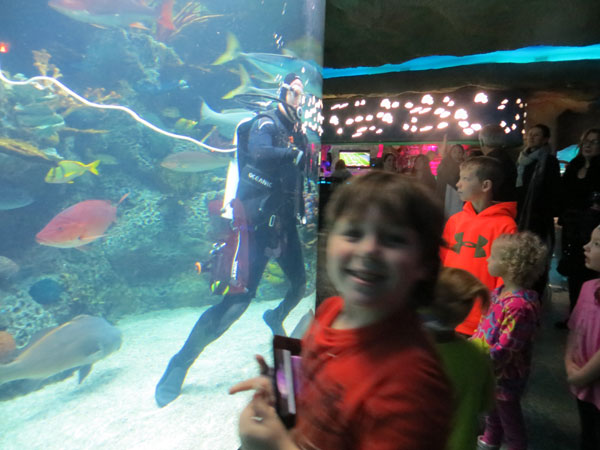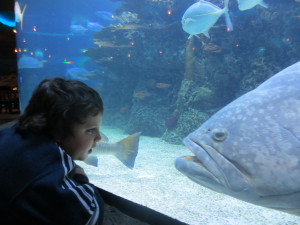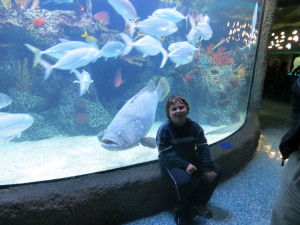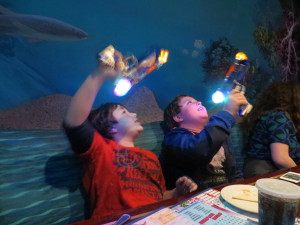 When there is no band playing, children play in the a splash pad (Dancing Water Fountains) in front of the Aquarium restaurant in the plaza. It lights up and squirts water to music. On warm evenings kids run and scream as water jets up from the ground. Mine enjoyed playing in the water, and after dark chasing each other around with souvenir glow-in-the-dark laser guns and light sabers.
Another fun thing to do at Kemah, especially if your child(ren) is older, is to ride the Boardwalk Beast boat. The Beast is a boat which goes very fast, and the captain makes sure everyone gets bounced, sprayed and eventually soaked–which your au child may or may not like. (My child enjoys things now he wouldn't have tolerated a few years ago–he wouldn't even get on a splash pad until he was almost 8 because he didn't want water hitting him.)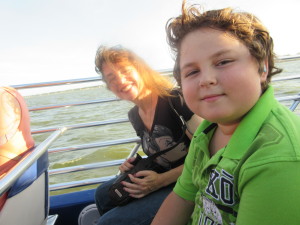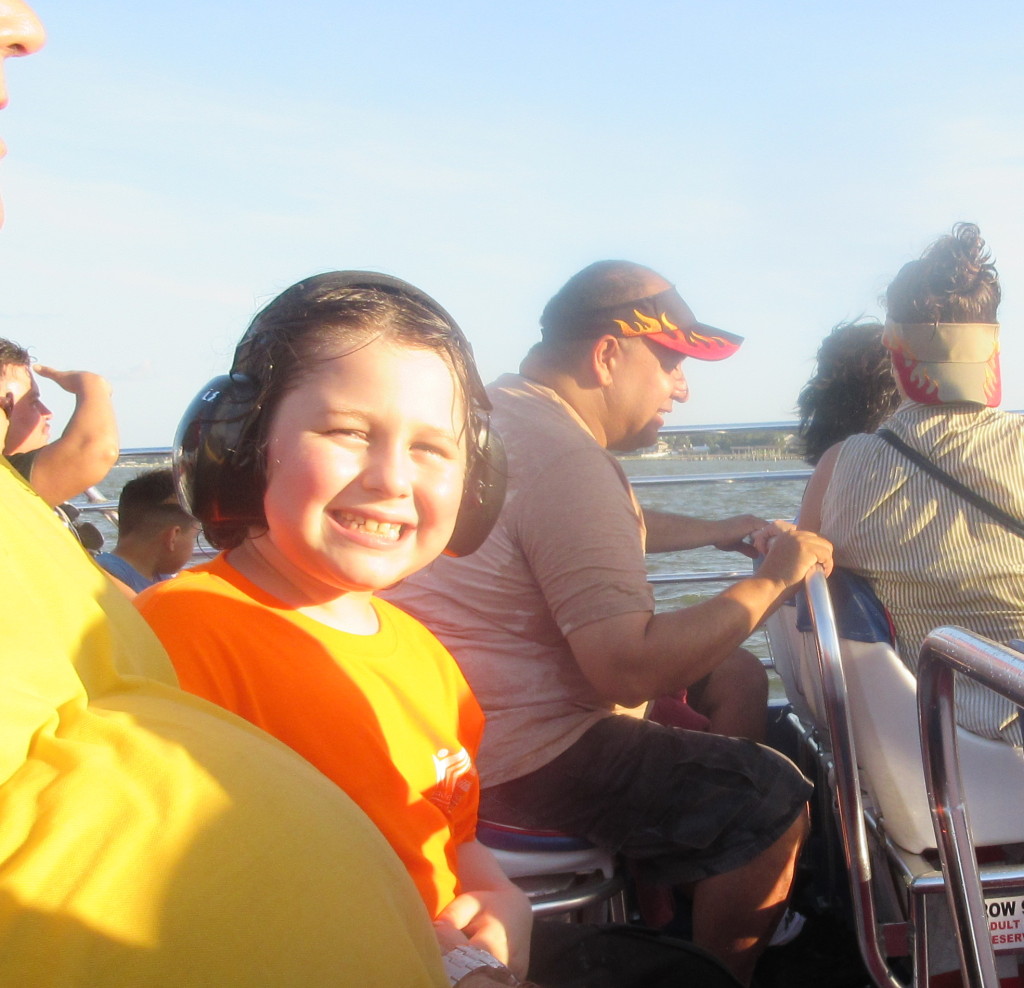 Dance music (Gangnam style, Happy, Party Rock Anthem, Jagger Moves) plays at dance club volume while dancers manage to do dance routines as the boat blasts and bounces through the water. If you go, take earplugs and sound-blocking headphones for you and your child. There was some sensory overload for our child–he couldn't be touched after we got off–but after it was all done he said, "That was fun. Let's go again!" The Boardwalk Beast was a hit with the whole family.