Clear Lake City began as a master-planned community in SE Harris County. Today the Clear Lake area is home to NASA's Johnson Space Center, the University of Houston Clear Lake, the Kemah Boardwalk and other entertainment venues around and Galveston Bay. It offers water recreation and marina, golf courses, and many engineering and aerospace companies (Boeing, Lockheed-Martin, Jacobs, Space X). Clear Lake features Clear Lake, a large body of water which separates Harris and Galveston Counties and feeds into Galveston Bay; also Baybrook Mall, one of the largest malls in the greater Houston area, and every big box retailer imaginable; an abundance of wildlife, including brown pelicans, seagulls, deer and egrets, and natural habitats along bayous. It is among the closest suburbs to Houston, only 18 miles from downtown. Clear Lake City was annexed by the cities of Houston and Pasadena in the late 1970s, but the annexation was controversial and incomplete.
The Clear Lake Independent School District (CCISD), the largest school district in the area, extends across 13 municipalities, including parts of Houston (former Clear Lake City), and the cities of Webster, League City, Taylor Lake Village, El Lago, Clear Lake Shores, Nassau Bay, Kemah, Seabrook, parts of Pasadena and Friendswood. Half the district is in Harris County and the other in Galveston County. Here is a district boundary map for CCISD and surrounding school districts: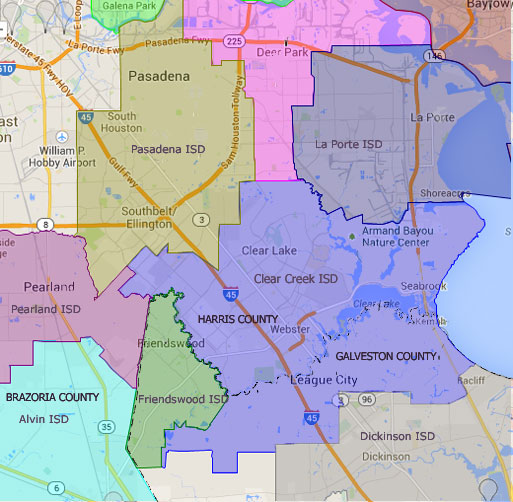 Unfortunately, the crisscrossing municipalities and being on the periphery of two counties (and therefore two "local authorities") makes it harder for families with a special needs child living in the Clear Lake area to obtain good information about what resources are available to them.
Within CCISD, services for people with intellectual disabilities may be coordinated either through MHMRA of Harris County or the Gulf Coast Center MHMR. The Gulf Coast Center offers curb-to-curb bus transportation (Connect Transit) for people with developmental disabilities provided that they live in Galveston or Brazoria Counties–in other words, individuals with IDDs living in the League City side of Clear Lake get free bus transportation, not the Harris County side (this was confirmed on 7/9/2014 with a call to MHMRA of Harris County). This might be important for people looking to establish a group home or deciding where to buy a house.
Clear Lake residents with a Houston zip code may also be unaware that they not considered "in district" for either Houston Community College or San Jacinto Community College–which could impact their child's access or eligibility for special needs vocational training programs and the cost of attending college.
The Clear Creek Independent School District, an exceptionally good district with high academic achievement ratings, provides no extended year or after school programs (child care) for intellectually delayed children.
Working parents may find that their quality of life and finances can be dramatically impacted by lack of access to a child care which will accept a special needs child. What to do with an autistic child after school and all summer long while mom and dad work is a real problem as (despite ADA) group child cares and camps cannot provide adequate supervision or activities appropriate for a child with intellectual disabilities. Living in a district which recognizes this problem and proactively seeks solutions–or where there are established special needs care centers–can make a big difference in the quality of life of parents.
Despite the popularity of the Clear Lake, Friendswood and Pasadena, for families with children and the relatively high population density compared to other areas, Clear Lake is not actively served by chapters of national organizations (The Arc) and other agencies which provide information to families with special needs and assist schools with transition planning. Though much of Clear Lake is technically in Houston and Harris County, the Arc of Greater Houston does nothing (by their own admission) in the Clear Lake area. The Arc of the Gulf Coast, headquartered in Alvin, defines its service areas as Galveston and Brazoria Counties, leaving most of Clear Lake, Pasadena (Harris County) and parts of Friendswood officially outside its service areas.