Bay Area Park ("Dog Park"), Houston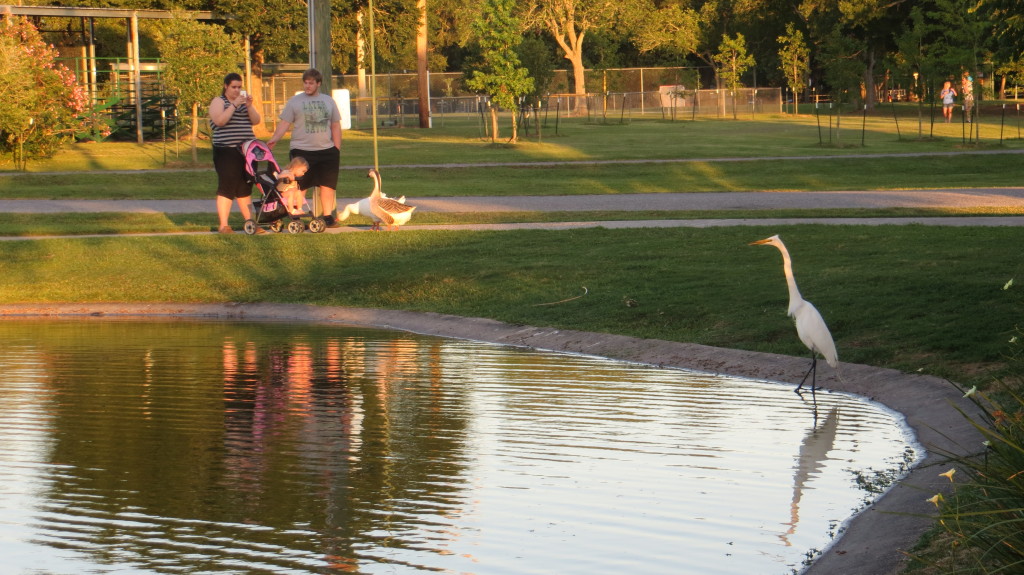 Bay Area Park is one of two major parks for the Clear Lake area. The park has a pond with large honking geese, common and unique varieties of duck, and a spaced-out egret who is almost always there in the evenings on the edge of the pond. Black vultures perch on garbage bins, raccoons come out at sunset, and large hawks soar overhead. There is a good sized playground for kids, barbecue pits and picnic tables, canoe launch, two baseball fields and batting cages. It offers a dog park separated into large play areas for different sized dogs. In fact, so popular is the dog park, dog people refer to Bay Area Park as "dog park."
Part of the park borders on Armand Bayou, but the playground is located quite far from the duck pond or bayou–for good reason, as we found out when our 10lb rat terrier stood near the edge of the pond one evening. A small alligator, with just an eye above the water, slid up next to him without making a ripple. (The dog just stood there looking confused, paw curled up, as to why we were all frantically yelling "Lucky! Lucky!") The grass is kept mowed and overall it seems quite safe, but heed the alligator warning signs. Dogs are allowed to run around leash-less on the other side of the park, where the only danger from predators might be a big hawk.
We used to bring the kids here to feed the ducks and geese, play on the playground and socialize with other kids. Now we bring the dogs to socialize with other dogs.
Down the road from the park is the Armand Bayou Nature Center  (http://www.abnc.org/) an educational center for kids to learn about the wetlands, bayou, prairie, forest and other ecosystems. They have an 1895 farm, boardwalk through wetlands, and buffalo. Though (surprisingly) we've never been on it, there is also an early morning pontoon boat cruise. We went to Armand Bayou Nature Center one Sunday afternoon when the weather was nice. I liked it just as a place to get out and walk around, concluding it was a pretty great value for the $2 admission charge.