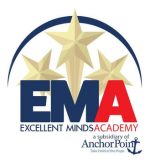 Business Genre
Long Business Description
Excellent Minds Academy is for high functioning students with learning disabilities and/or disorders, as well as general education students who do not function well in large classroom settings . We provide individual, group and computer based curriculum and encourage students to express their Excellent Minds! We believe that Every child deserves an Excellent education so our goal is to provide this education no matter the economic status of the household.
In general, we accept students who fall in the following categories:
Students Who Need A Small Classroom
Sensory Processing Disorders
Kinesthetic Learners
ADD/ADHD
Autism Spectrum Disorders
Intellectual Disability
We offer a challenging curriculum to all grade levels academically and more importantly the social skills most of our students are lacking. A variety of curriculum's are used to best provide our students the individual education needed with A Beka and Bob Jones Press. Math, language arts, reading and writing are our primary focus. Additional classes in music, art, penmanship, PE and social skills help to round out our student's development.
Click HERE for registration information.